It is vital to eat healthy if you wish to increase your stamina and fitness. When it comes to a healthy lifestyle, then it is important to choose your foods carefully. It is equally important to develop friendly eating habits.
Here are some steps on how to eat healthy: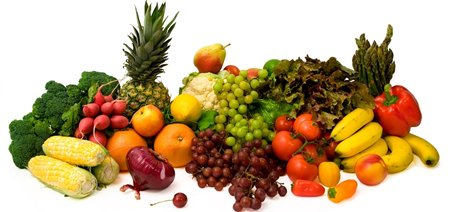 1. Schedule your meals discreetly: It is vital to schedule your meals with some deliberation instead of eating haphazardly, or without any care for your body. Eat less, but with greater frequency!
Your routine should be to eat a light meal after every 3 hours instead of eating a very heavy meal every 6 hours.
2. The amount of food you eat should be in a descending order: You must start your day with a heavy breakfast. Then your consumption should decrease with every meal. Thus, your dinner should be very light.
One of the best ways to eat healthy is to eat the heaviest foods during the morning, and the lightest during the night!
3. Eat soup or drink a glass of water before meals: If you are prone to overeating, then you must start by eating a bowl of soup or drinking a large glass of water before commencing your meal. For example, eating a bowl of soup at the onset will bring down your level of hunger, and will help you eat less.
4. Drink more water: In between meals, keep drinking water in good amounts. Water is very healthy for detoxification and also helps to keep fatty foods at bay.
5. Do not indulge: While eating, you must not let yourself indulge! It can happen easily, especially if you are a foodie or feeling pretty hungry!
Eat sensibly and once you realize that you are no longer hungry and have eaten enough, then stop! It would be catastrophic to your figure to continue with the proceedings 🙂
Fitness Tips: Keys to Staying Fit

Here are some fitness tips that will help you get vitalized, refreshed and feel more energetic:
i) Avoid a lethargic lifestyle: Some people have a lethargic lifestyle that includes waking up late, moving around slowly and taking a car even when heading to a nearby store.
Learn to walk more and move around briskly!
ii) Say no to sugar: Some may say that sugar, if taken in moderate amounts, won't cause any harm. But the fact is that if you can completely eliminate sugar-coated products from your platter, then you can reach peak fitness sooner.
iii) Do cardio-based workouts: One of the most beneficial fitness tips is to do cardio-based workouts. They give you physical stamina and also increase your mental aptitude.
Eat Healthy: Top 5 Foods You Should Include in Your Diet
Here are the 5 health-friendly foods which you must include in your diet:
A) Broccoli: Some of you may not like its bitterness, but it is, without a doubt, one of the healthiest foods there is.
B) Almonds: Almonds are good for the health and they are replete with calcium, magnesium and Vitamin E. Besides, they also help you with muscle building.
C) Spinach: Adding spinach to your diet is one of the great ways to eat healthy. Even Popeye (the sailorman) would vouch for that!
D) Oatmeal: Rich in fiber and vitamins, oatmeal is perfect for those looking for the perfectly balanced breakfast meal.
E) Apples: Apples are a rich amalgamations of vitamins and antioxidants. They have high sugar, but they promise a healthy heart. The old adage "an apple a day keeps the doctor away" still holds true!
Eat Healthy =  Live Well!